Our organic olive oil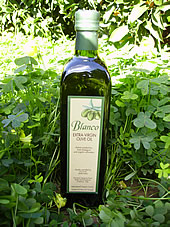 Blanco olive oil is exclusively obtained through organic methods according to community regulations and in respect of nature. Our farm only uses natural products and organic fertilisers. Our oil is produced in limited quantities from the olives of our farm, mainly from the cultivar Nocellare Etnea, mixed in minor quantity with Biancolilla e Moresca. This oil has an intense bouquet, the colour is green with yellow-amber reflection, naturally rich in chlorophyl. The taste is fruity mild, lightly sweet, the density is middle high with low grade of acidity and height quantity of poliphenols thanks to the precocious picking and to particular care during the process, from the picking to the conserving. The oil is not filtered, just decanted, and the slight cloudiness indicates its genuine production and contributes to delicious flavour.
We suggest to use the oil raw on vegetables, meat, fish and as a condiment.
Picking and pressing

The olives are picked from middle October, entirely by hand. As soon as they are picked, they are stored in very low boxes, to avoid being hit or squashed, and they are placed in a fresh and airy location. Then they are brought to the 'frantoio' (the olive press) within 24 hours of being picked. The pressing is done in a modern frantoio using a system of cold and continuous extraction, in order to avoid any oxidation process occurring and to preserve its intrinsic natural qualities.
Conserving and bottling

The oil is conserved in sealed containers, stored in a cool, dark place, to protect it from the light, air, and change of temperature. Ancient terracotta jars have now been replaced by modern stainless steel containers. Later, the oil is bottled in dark green glass, that better protects it from the light.

We suggest that it is kept in this way.